Steve Wozniak Wants Bitcoin to Become the World's Single Currency and Ethereum to be next Apple
Apple co-founder Steve Wozniak said a few positive things about Bitcoin. In a recent interview with CNBC, the computer mogul admitted that he hopes bitcoin will become a single digital global currency and that he shares the sentiment of Twitter and Square CEO Jack Dorsey, who expressed his belief last March that bitcoin will become a unifying cryptocurrency for every nation within the next 10 years.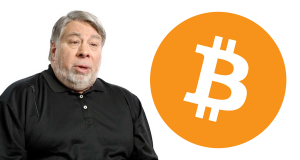 I buy into what Jack Dorsey says, not that I necessarily believe it's going to happen, but because I want it to be that way, that is so pure thinking," Wozniak told CNBC.
Wozniak bought bitcoin when it was $700, over $6,700 less than where the cryptocurrency was trading on Monday.
He also owns two ether (the cryptocurrency of the Ethereum blockchain platform), which he has been very complimentary toward. At a recent conference in Vienna, Wozniak praised Ethereum and said it had the potential to become "the new Apple."
"Ethereum interests me because it can do things and because it's a platform," he affirmed.
Wozniak now refers to bitcoin as "pure" and says it's the true equivalent of digital gold.
"Bitcoin is mathematically defined," he explained, "there is a certain quantity of bitcoin, there's a way it's distributed … and it's pure and there's no human running it, there's no company running it, and it's just going and going, and growing and growing, and surviving. That, to me, says something that is natural, and nature is more important than all our human conventions."
"There is a certain amount of bitcoin that can ever exist," he continued referring to 21 million bitcoins that could ever be mined. "Gold gets mined and mined and mined. Maybe there's a finite amount of gold in the world, but there is no end and if someone comes hidden land of gold in future, one can't just know, but cryptocurrency is even more mathematical and regulated, and nobody can change mathematics."
Wozniak also called for further regulation efforts, saying they were crucial to bitcoin's survival in order for it to survive and thrive regardless of all evil.
"Regulation is an essential element to the fin-tech transformation happening today," he exclaimed. "Fairness, equality and truth is the foundation for good regulation and that will lay the groundwork for good development."